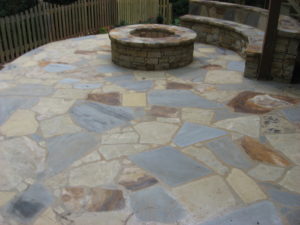 When you really want to make your property stand out, you'll find that one of the most popular and versatile aspects that you can add is stone. When most people think of landscaping, they think of things like flowers and soft sod, but the truth is stone can give your property a wonderfully rugged look without disturbing the natural harmony with concrete or ceramic. If you are looking for a way to make sure that your yard or landscaping project is really something unique, think about ways to incorporate stone.
You'll find that many people will use landscape stone to set up a boundary or a border. In this way, you can use natural stone that has a very rough look to emphasize the natural beauty of the garden, or you can take the time to look for wonderfully cut bricks that give a very old-world flavor. You will also find that the use of stone walls can be used to enhance rocky problem areas, as well as to help you retain the soil on slopes.
Some people will also find that they can use stone to make their patios stand out as well. If you are tired of the roughness of brick, or bored with using wood, take a look and see what some well placed flagstone can do for your patio. You'll find that stone retains a wonderful coolness well into the day, and that the various shades of stone, ranging from a deep dusky blue to a lighter beige, can go a long way towards enhancing the color scheme that you have chosen, and it can help you create a focal point to build your landscape around. If you have a swimming pool, landscape stone can make a lovely addition in the case of a stone fireplace alone or incorporated into an outdoor kitchen.
Do you have an area that you just don't know what to do with? You'll find that a spot that is too shady, too bare or simply shaped oddly is a common problem, and you'll find that stones can provide you with the answer! In many cases, stone can be use to create a "hardscapes" of sorts; you'll find that you will be able to build up an attractive area using just stones and the plants that go along with them, adding accents and a wonderful appeal to an area that had no appeal in the past. Make sure that you don't give up an area as a lost cause before you find out what some attractive and well-installed stone can add to it!
If you are interested in any of the options above, or you want to figure out what else can be done to enhance the look of your yard, check out our huge supply yard at Atlanta Landscapes and Pools.  Our supply yard can provide you with the beautiful rocks, stones and boulders you need to really change your landscape. In addition to supplies, we will also provide you with a free estimate for installation. If you are in Woodstock, Kennesaw, Roswell, Canton or Marietta Georgia, make sure that you give us a call at 404-543-3007.