Backyard landscaping has evolved from that of a summer recreation area complete with barbecue grill, patio furniture and green grass to a living space that can be enjoyed throughout the year. This is made possible by the addition of an outdoor fireplace and kitchen to your backyard setting. Nothing conveys warm and welcoming like dancing flames in outside fireplaces during winter, spring, summer and fall.
Atlanta Landscapes and Pools will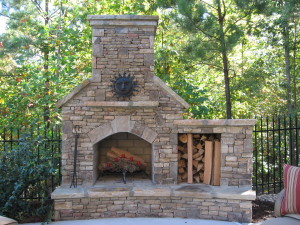 build yours to the highest standards, which means they are made to last, and come in a variety of styles that will fit every taste and fit any budget.
If an outdoor fireplace is beyond your budget, one of the fastest growing trends is the outdoor fire pit used on a patio or deck. One of the reasons for the increasing popularity is due to the fact that these pits are portable and usually manufactured from durable materials such as cast iron, copper, stainless steel, aluminum or clay. These smaller units are great for any outdoor space including decks and patios as long as they have ample separation from the home.
They also offer two fuel options: wood burning or gas/propane. While there are maintenance requirements for a wood-burning outdoor fire pit, a gas outdoor fire pit is the perfect investment for people who want an affordable, low-maintenance blaze. Many are available in small sizes, without the space requirements of the larger models. The inviting warmth generated by these smaller units is designed for intimate gatherings and is a favorite for chilly evenings.
But for those who can afford it there is nothing like the real thing to add value and beauty  to your home.  If you live in the North Metro Atlanta area such as Roswell, Sandy Springs, Dunwoody, Roswell, Woodstock or Canton let Atlanta Landscapes and Pools come show you how affordable a real outdoor fireplace can be.
If you are looking for an outdoor fireplace, please call us at 404-543-3007.