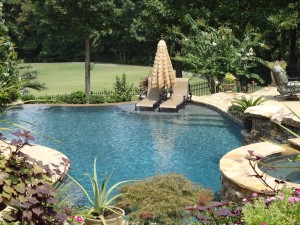 Backyard swimming pools are a great accent to any family house. They provide a different and fun atmosphere that that can really add to a families time together and help families become more social with their neighbors and friends. They are ideal for kids birthday party's as well as being a quite place to just kick back and read during the afternoon. There are dozens of ways to reflect your family's personality with your backyard swimming pool's design. To complement your backyard swimming pool, there are a variety of new designs, technologies and pool accents that will make your pool different from all of the rest.
Here at Atlanta Landscapes and Pools, we provide free consultations to help you determine the ideal swimming pool that would most compliment your home.
Swimming Pool Design
Remember, you want a pool that you can enjoy. If you are active and you want a pool where you can do laps you are going to want a lengthy pool such as a Roman style swimming pool which is rectangular and straight. On the shorter sides, they are slightly rounded. A voluptuous pool would be the Tropicana pool that is in the shape of the number eight. It allows for both sport and play. If you do not have a large backyard but you are still interested in designing a pool, there are a variety of smaller swimming pools with unique swimming pool architectural shapes that can fit any backyard shape. Lagoon shaped swimming pools are uniquely shaped like that of a clover with a fountain that spouts out water. A similar sized pool is the garden pool. It is a little less curvy than that of the lagoon pool and equally small to fit into any backyard.
Swimming Pool Technology
If you would like us to help you design your backyard pool for this summer you should think about some of the new innovative technologies that you can purchase. Such new technology for swimming pools include IntelliBrite™ Color LED Changing Lights, ColorLogic® Pool Lighting, Hayward® H-Series Heaters, ClearPro™ Sand Filter Technology, Hayward®Navigator®, Cleaner Hayward®TriStar Pump and the Pentair® Variable Drive Pumps.
Pool lighting systems for your pool can be really fun.. With the first you can have your pools lighting change in a variety of colors while the latter allows you to have one color of your choice which can be changed. If you are interested in warming up your pool the Hayward® H-Series Heaters. They are the latest designs of pool heaters that are available. To keep your new pool clean you are going to need pumps and cleaners. The best of the best are the following: ClearPro™ Sand Filter Technology, Hayward®Navigator® Cleaner, Hayward®TriStar Pump and the Pentair® Variable Drive Pumps.
For a fun accent you can decorate your pool with backyard accessories like an outdoor kitchen,  outdoor stone fireplace or a bar to give it that Tiki feeling. You may also be interested in using some beautiful Landscape Stone in the patio surrounding the pool. You are going to love the pool that Atlanta Landscapes and Pools can create for you. If you are ready to add a new addition to your house you can call Atlanta Landscapes and Pools at 404-543-3007. Atlanta Landscapes and Pools now serves the areas of Atlanta, Woodstock, Roswell and Canton in North Georgia.