Do you need tree removal and live in the North Metro Atlanta area? Here is what you need to know…
Atlanta can be known for some heavy rains and hurricanes just about any time of year. When you have trees that are dangerously close to your house or have already fallen home owners need to have those tree taken down and away while preventing any damage to the home or backyard. While some are willing to take on the responsibility themselves, it's sometimes easier and safer to hire professional services to do the job, especially when it might mean felling a tree and removing stumps. It can be hard to decide which service to hire as there are always at least ten tree removal services in the area to choose from.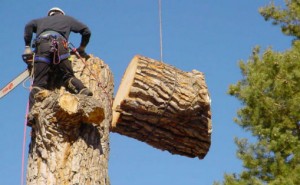 Tree removal is a major process that tree owners have to do every now and again when a tree has died during the winter, gotten infested with pests or becomes a danger to the home or public right of way. It's one of the most expensive tree care services to pay, averaging anywhere from $250 to $1000. As such, you want to be sure and only pay for the tree service and not additional costs in lawn repair, fence repair or home repairs because it was done incorrectly. Consider this imperative information when hiring tree removal professionals.
Here are the essentials all home owners should take into consideration when hiring any kind of tree service.
Check Credentials
It's easy for someone to buy a small amount of equipment and bill themselves as a tree cutting professional. To ensure that you get the highest level of service possible, you should stick with established companies and hire a company that has a proven track record. Ask for references and follow up on them. Make sure that the tree removal company is licensed and insured as well. There are plenty of honest, experienced companies out there, but there are also plenty of dishonest ones too.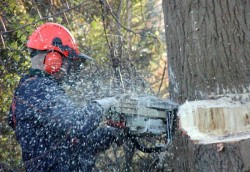 Get Down to Specifics
Each person's needs are different, so you should ask plenty of questions before hiring a company to perform tree cutting or removal services for you. For example, ask about the following things:
• Pricing – This is a big deal, and the way in which a company charges for its services depends on a number of different things. Some companies' fees are based on tree height while others charge hourly rates. Some companies charge extra for travel, so make sure to ask about that as well.
• What's included? – Always find out what's included with your tree removal or cutting service. Some companies will cut down your tree, chop its trunk into manageable sections and even haul them away for you. Others will leave the trunk where it lies, and you will have to handle it yourself. In some instances, a company may offer to do extra work but charge more for it. Get all of this on paper before proceeding.
• Extras – It's often worth it to pay a little more to have extra work done. After cutting down a tree, for example, a company may offer a discounted price to grind away the stump. It's something you'll probably need to do later anyway, and you might be able to get the work done for less by having it handled at the same time. Some tree removal companies will also chip up your branches and either haul them away or leave them for you to use.
Tree removal is hard work. It's not something that should be handled by inexperienced people. If you want the landscaping of your home to look as nice as possible, you should invest the extra money in hiring a tree cutting company. It may cost more, but it will be done in a safe and effective way.
Turn to us for any tree need:
Atlanta Landscapes and Pools provide a free consultation to determine the best solution, whether you need removal of trees, limb removal and trimming, stump grinding and removal, removal of yard waste or Spring and Fall cleanup services. Please call Michael Schoen at (404) 543-3007. We service Woodstock, Canton, Roswell, Alpharetta, Sandy Springs, Kennesaw, Marietta and nearby areas.