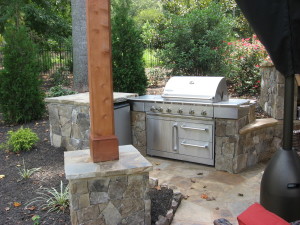 Within the last five to ten years, many homeowners have extended their living space to the outdoors by bringing the kitchen outside.  Outdoor kitchens began as a popular trend in the West and now they are found all over the country.  Entertaining outside used to mean a picnic in the park where everything you needed had to be toted along, including food, drinks, ice, flatware, plates, etc.  Wouldn't it be wonderful to simply walk out to your own patio and entertain your guests without leaving all the comforts of home?
Homeowners looking to add real estate value and beauty to their home can easily build on an existing stone patio or construct one in conjunction with a new patio.  Some of the more popular elements included in an outdoor kitchen are gas or charcoal grills, small refrigerators, countertops and outdoor fireplaces.
Do you grill often or in large amounts for large groups of friends and family?  An outdoor kitchen is ideal since most of the time; guests end up on the patio area socializing as they wait for the food to cook.  Outside, where there is more space to move, more people can be involved in the preparation of the meal.
By cooking outside in the summer months, your home stays cool and you can enjoy the outdoors more often.  Also, cooking smells won't linger in your home after preparing seafood or grilling with heavy spices.
People will naturally be drawn to your yard and patio when they see a beautiful fireplace incorporated into the patio area.  It will quickly become one of the preferred "rooms" of the house, adding beauty and class to your yard space. 
Grilling and cooking outside are a favorite pastime, but it can be a nuisance to bring everything you need from the kitchen to the patio.  An outdoor kitchen makes cooking in the open air a breeze by having everything you need right at your fingertips.  The most basic outdoor kitchens have a large grill and some countertop space.  More elaborate plans include a refrigerator, cabinets for dish storage, a sink, a pizza oven and/or a built-in fireplace or fire pit.
According to the U.S. Census Bureau, Americans all over the country have added patios, terraces, and outdoor cooking equipment to their homes.  Homeowners who have invested in an outdoor cooking area report spending a lot more time in the great outdoors with their family than they ever did before they had an outdoor kitchen.
The design of your new outside kitchen can reflect your own personality and taste, making the transition from inside your home to the outside, all the while feeling as though you're still "home".
Atlanta Landscapes and Pools is a landscaping company serving the Atlanta, Woodstock, and Canton, Georgia areas.  They specialize in hardscapes such as patios, outdoor fireplaces, concrete, stone walls, and anything made from stone.  When you are ready to begin designing your own outdoor kitchen and employ an excellent landscaper, contact the professionals at Atlanta Landscapes and Pools at 404-543-3007 for all of your outdoor kitchen design and construction needs.