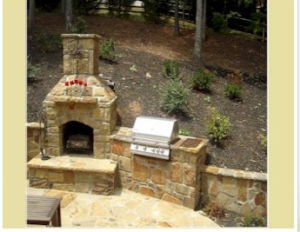 The fun in having an outdoor kitchen mainly stems from the features that you put with it. A grill, stove and ample counter space should be a top priority. When you hire Atlanta Landscapes and Pools, you will get more of these features and amenities. Among the added amenities that we highly recommend are the following:
Storage Areas
Storage in the form of cabinets and shelves are important elements in any outdoor kitchen. We build them using sturdy materials so you won't worry about high maintenance costs.
Sinks
Sinks and faucets are installed strategically to make clean up so much easier for you.
Ice Makers
Never run out of ice with a flash freeze icemaker. These units keep ice frozen until used and then ice is replaced in as little as 15 minutes.
Refrigerators and Chillers
A small refrigerator and/or a chiller reduces the need to go back into the house to fetch soft drinks for guests, while a bar comes in handy when you entertain guests often.
Kitchen Lighting
We make sure that we install sufficient lighting to keep the area well illuminated even at night. This will allow you to spend quality time with friends and loved ones outdoors even when darkness has set in.
Pergola
A pergola to house your outdoor kitchen and keep you away from the heat of the sun or the rain is also recommended.
These are only some of the common installations in an outdoor kitchen. In the end, it's really all up to your specific needs. As policy, we highly consider clients' individual needs and preferences when designing and building outdoor kitchens to ensure function and optimum comfort.
Please see our Outdoor Kitchen Portfolio for ideas for Outdoor Kitchens in Atlanta, Roswell, Canton, Woodstock and Alpharetta, GA.